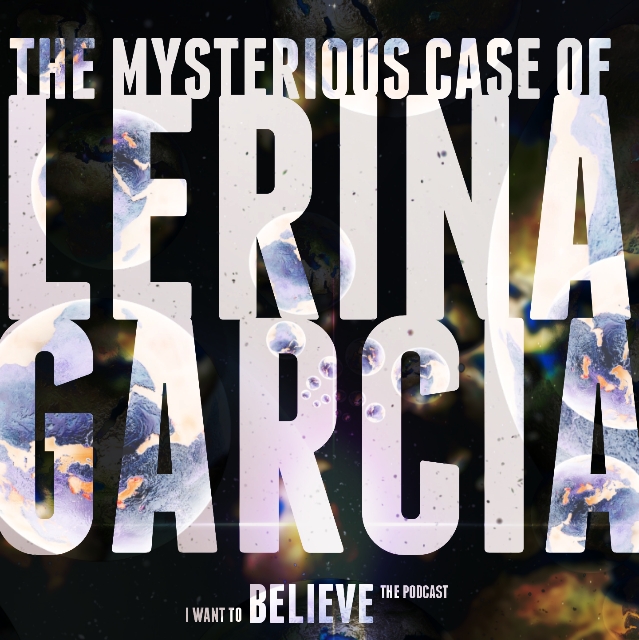 Season 2 Episode 13
THE MYSTERIOUS CASE OF LERINA GARCIA
If you've made it this far, thank you! This is the 13th episode of the I Want to Believe podcast and while this IS NOT the season finale, we will be taking a little break. Why? Well, it's the start of the new year, we've recorded and edited 13 episodes back to back and I've got a few other things to do!
I will soon be travelling for a bit to continue work on my documentary, "Otherworldly Amor". Also, I have a new book project in the works and I will be visiting an experiencer to document their case. Exciting stuff! Once I'm back, we'll record a couple more episodes AND we have a little surprise for April 2019, stay tuned. 
Ok… back to the show and we've got a weird one for ya… let's talk about the mysterious case of Lerina Garcia.
On July 16, 2008 a woman named Lerina Garcia was struggling with some recent changes in her life and turned to the internet for some help. Her post originally appeared on a Spanish language website called Tendencias21 (which translates to Trends21). I have access to her original post and the link is below. We did use Google Translate so some of the quotes we used are a bit rough. She wrote, "I think I've jumped into a parallel universe. I find it hard to tell because everyone will believe that I am a psychotic, and nobody will believe me. Please, if someone has had a similar experience, write me an email." 
How did she come to this realization? Listen to the episode to find out. 
An Update Perhaps? Scroll down to Dec 5, 2017 - Username: The_Observer
Sources: Stranger Dimensions
___________
Social Media & Email
Send us an Email (suggest an episode topic, tell us how awesome or dumb we are… whatever you want!)
Slevik Media Links
Abducted New England Documentary on Amazon Prime
PayPal Link for my book Otherworldly Encounters - $20 signed & includes shipping
Amazon for Otherworldly Encounters
Bullmoose for Otherworldly Encounters
Podcast Links